L82 Turbo Corvette Photo Gallery
This short YouTube video provides an overview of the "Corvette That Never Was".
Flash player 8 or newer and JavaScript enabled are required to view this video.
National Corvette Museum

This is a rear view of the car after it just arrived at the museum, as you can see it has been placed in the Skydome along with some other prototypes.
Magazine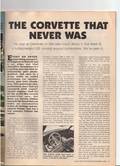 This Road Test article was published about six months after the car was delivered. It hints of secrecy and intrigue.
Engine

The engine compartment has lots of interesting things. Most evident is the top of the carburetor where the intake cowling sports the Corvette marque. You can see the variable waste gate on the far side, and closer, the fuel pressure gauge. You can't see the electric fuel pump which is mounted low. This auxillary pump turns on when the car is under boost to provide enough fuel pressure to overcome the positive air pressure.
Dashboard

This is a close up of the boost monitor, as you can see, it is attached to the steering column rather than installed in the dashboard.

In 1980, Corvette speedometers topped out at 85mph. Here you can see the speedo goes to 140. One of the unusual things about the dashboard.

In this picture of the dashboard you can see in the space usually occupied by a clock, there is a pyrometer. You may notice there is a hole in the bezel at the bottom of the gauge, this is where the stem of the clock would come through. This gauge is a beautiful one-off made at the tech center. I have never seen another.
Interior
Exterior